TIPS ON TURF
Since turf is relatively water thirsty, use it sparingly. If you like the green look that turf provides, you may be able to achieve a similar look with low water use groundcovers or a combination of turf and low water use plant material. There are many water thrifty plants that have a surprisingly lush look.
Make turf areas functional, but use only as much as you really need.
Install turf areas close to your house or in other areas where you want a cooling effect.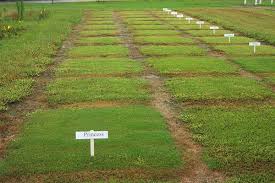 Design your turf area so that it has a simple shape. Oddly shaped turf areas or narrow strips of turf are difficult to irrigate and mow.
For ease of maintenance, locate turf away from sidewalks, fences and walls.
Plant turf on level areas to avoid runoff and maximize irrigation efficiency. Most cities have an ordinance prohibiting excess irrigation water from entering the street.
Irrigate turf efficiently. Design and manage your irrigation system properly.