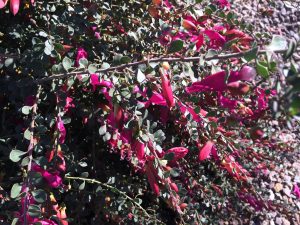 The Valentine Emu is a lush evergreen shrub which produces masses of red tubular flowers in late winter and early spring, peaking just in time for Valentine's Day. The small oval leaves take on a red tinge in cold weather. Has an attractive natural shape, but also takes well to shearing.
In fact it is desirable to shear in spring, usually in March, after the current year's bloom is finished as this will provide an improved flower display the following year. Tolerates reflected heat and alkaline soils, but prefers good drainage. Give adequate water until established.
We'd be happy to maintain the landscape at your home or business. Click here for a free quote!