A densely branched habit with blue-green leaves that have a citrus scent when crushed. The versatile compact size is perfect for today's smaller gardens.
'Little John', is one of the most seen and identifiable shrubs in the Valley. Blood red, bottlebrush-like flower spikes cover this small to medium shrub evergreen shrub from spring into summer. In warm, temperate regions, it will continue to bloom intermittently throughout the year. Little John produces dark red, brushy flowers during the spring and fall. Versatile, hardy and colorful the Little John is a popular accent used in many types of landscapes.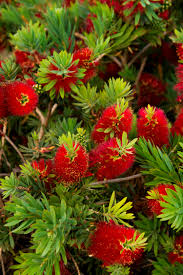 Little John's make a nice informal hedge, accent to a desert yard, or planted in mass over large areas. They thrive in a variety of soil conditions and love the Arizona summer heat. Fertilize consistently spring through fall to keep them dark green and flush full of red flowers.
We'd be happy to maintain the landscape at your home or business. Click here for a free quote!