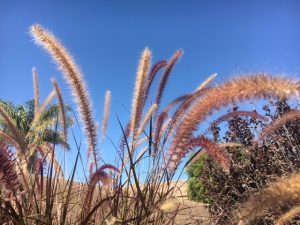 Purple Fountain Grass is a very attractive grassy ornamental that adds color and to any landscape style. Purple Fountain Grass is a perfect accent around rocks or in borders around just about any landscape. They grow great in pots as an addition to warm season annuals.
Purple Fountain Grass will turn dormant in the winter, but still add nice color and interest to your landscape. Just shear them close to the ground and new purple tinted foliage appears in early spring (about February in Arizona). The purple flower plumes do not generally form seeds so this landscape grass is non-invasive in garden situations.
We'd be happy to maintain the landscape at your home or business. Click here for a free quote!