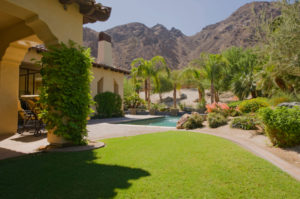 Landscaping is an important concern for property owners. This holds true regardless of their plans for the property or how long they intend to keep it. For residential property owners who plan to stay in the home for the foreseeable future, the ability to enjoy the space and be comfortable even when outdoors is a high priority. Good landscaping adds to the visual appeal of the property, making it the kind of beautiful environment where the family will enjoy spending time. Going beyond the cosmetic, landscaping can also serve functional purposes, as well, such as by providing shade or increasing privacy.
Homeowners who are planning to sell also pay attention to landscaping because curb appeal is a major factor that impacts buyers. The ability to appreciate outdoor space or enjoy spending time in the yard and other outside areas can also be an important consideration for potential buyers.
It isn't just homeowners who are concerned about the exterior of their properties, though. Commercial property owners also want their buildings (and the areas surrounding them) to look as nice as possible. This is the first impression people will get of that business, and it is critical that this portray a positive and professional image. It also lets visitors know that the business cares about its image, and takes pride in its facilities.
While it is great if your property looks nice, conscientious landscaping goes beyond appearances. In our area especially, there are specific considerations you must take into account when planning your landscaping arrangements. Many types of plants and trees cannot survive well in this climate, so you want to select choices that will thrive and remain healthy in the Tempe conditions. If your landscaper doesn't have the expertise to know how the local environment affects certain types of plants, you may end up with an arrangement that looks good at first but quickly withers or requires excessive effort to maintain.
This is why it is critical that you choose a Tempe landscaping company that is well established in the area, and that has the in-depth knowhow to determine which would be the best options for your local property. They can also advise you as to the proper way to keep your landscaping looking its best and staying healthy.
Corona Landscape is a leading Tempe landscaper, and we can keep your property looking beautiful.