LEARN ABOUT MATERIALS
Although plants are considered the mainstay of many landscapes, it is important to remember that other landscape materials are available that will add to the beauty and function of your yard. For example, you may want to incorporate hardscape or structures into your landscape plan.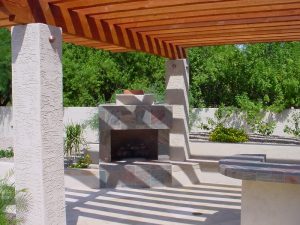 These include the following design elements:
patios and ramadas
walkways
boulders
a barbecue or fire pit
built-in planters and seating areas
a swimming pool, spa or fountain
walls or fences to separate or screen an area
trellises that support vines and soften the look of fences and exterior walls
You can choose from a wide variety of materials and colors. Consider materials like flagstone, bricks, exposed aggregate and colored concrete in addition to more traditional hardscape materials like natural colored concrete and pool-decking. Also consider adding interest in the landscape by incorporating unusual shapes or a combination of hardscape materials into your landscape design.
Investigate your hardscape and structural options before planning your landscape. Purchase some landscape design books (there are several available in paperback) and house and garden magazines, or borrow some books from the library. While visiting neighborhoods and other public areas for plant possibilities, take time to observe how hardscape and structural features have been incorporated into landscape designs.