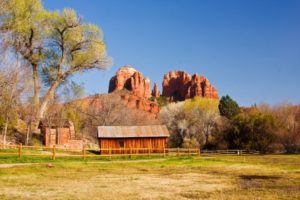 One of the best things about living in this area is the climate. The amazing weather means you can spend lots of time outside, enjoying the outdoor areas of your property. The climate also allows for many varieties of beautiful greenery.
Of course, this greenery needs care and maintenance. You won't fully enjoy your time outdoors if your landscape is looking neglected or unhealthy. That won't be an issue if you let us help with your Mesa landscaping needs.
Corona Landscape is a family-owned and operated full-service landscaper, providing residential Mesa landscaping services to many satisfied clients in the area.
Our services include weekly lawn care and maintenance (mowing, trimming, weeding and debris removal), lawn seeding and fertilization, irrigation adjustment and repair, and seasonal cleanup. Our goal is to take the day-to-day hassle out of maintaining your landscape by offering a variety of services and developing a long-term relationship with you. We can provide weekly or bi-weekly service, or a custom schedule to fit your maintenance needs.
We would love to help with your Mesa landscaping needs—contact us today to find out how we can keep your property looking beautiful.