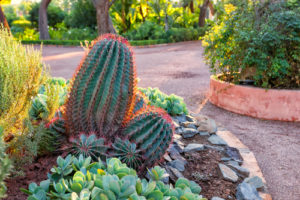 It's a well known fact that cities like Tempe and Mesa are great places to live for those who enjoy warm weather; the summers can be extremely hot, and the winters are not always as cool as in other parts of the U.S.
However, as a result of our unique desert climate, yard design can be challenging for even the most experienced of landscapers.
Arizona's desert climate requires skilled and experienced landscaping design services that take into consideration the specific and unique needs of this special geographical location, as well as deep knowledge as to how best to implement regionally appropriate choices.
Here are some "dos" and "don'ts" when it comes to selecting the right elements for your residential landscaping in Tempe:
Do's:
Do select native species that reflect the beauty of the desert and will survive with little water. Keep in mind: in hot and dry environments, landscape designers must configure the design of a yard for protection from the west. In the desert, specifically adapted plants, such as palm trees, are a perfect solution.
Do group your plants according to their various water requirements. With this approach, it's easy to use different irrigation zones to water each type of plant appropriately.
Do tailor choice of mulch to your current plants. For example, desert natives featuring a finer leaf texture will stand out against a gravel They also will grow well when mulched with certain types of mulch.
Don'ts:
Don't landscape your property with all rocks. While rock landscaping is definitely low-maintenance, various rocks can become so hot from the sun that the landscaping can become unpleasant to be around. On the other hand, gravel can stop heat retention, prevent storm runoff and limit weed growth.
Don't overwater. Most professionals will recommend to water deeply every two weeks in the summertime and once a month in the winter.
At Corona Landscape, we provide landscape installation services that include turf, rocks, trees, shrubs, plants, irrigation (sprinklers and drip systems), pavers, low voltage lighting and more. Contact us today for details about your residential landscaping in Tempe needs.