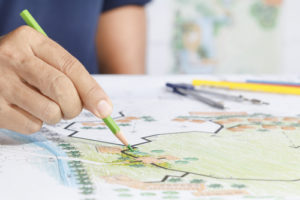 According to the 2016 Residential Landscape Architecture Trends Survey (conducted by the American Society of Landscape Architects), sustainable design is the biggest trend this year amongst homeowners for residential landscapes.
The survey cites the top trend as "rainwater/graywater harvesting," an innovative landscaping practice that reflects today's growing consumer demand for beautiful residential landscapes that also save water.
As part of the survey, landscape architects were asked to rate the expected popularity of a wide range of 2016 residential outdoor landscape design elements and features.
A little more than 800 survey respondents said their greatest demands for outdoor living spaces right now include landscape projects that help reduce water costs, are environmentally sustainable and are low maintenance.
Here are the top 10 project types, with the expected highest consumer demand:
Rainwater/graywater harvesting – 88 percent
Native plants – 86 percent
Native/adapted drought tolerant plants – 85 percent
Low-maintenance landscapes – 85 percent
Permeable paving – 77 percent
Fire pits/fireplaces – 75 percent
Food/vegetable gardens – 75 percent
Rain gardens – 73 percent
Drip/water-efficient irrigation – 72 percent
Reduced lawn area – 72 percent
The survey's top three most popular outdoor design elements include:
Fire pits/fireplaces (74.95 percent)
Lighting (66.67 percent)
Wireless/internet connectivity (65.86 percent)
The top landscape and garden elements include:
Native plants (86.02 percent)
Low-maintenance landscapes (84.55 percent)
Food/vegetable gardens (74.95 percent).
Finally, pergolas (50.94 percent), decks (47.40 percent), arbors (44.32 percent) and fencing (44.07 percent) are expected to be the most popular outdoor structures.
For Tempe landscape maintenance or design ideas for your home, contact Corona Landscape today! We take pride in showing up on time, getting the job done right and giving our customers valued services at prices they can afford.