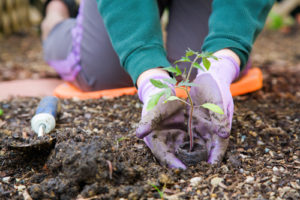 For many avid gardeners, the actual joy of gardening in Arizona's unique desert climate is that it's never too late to plant something.
If you want to try your hand at herbs or vegetables, grow flowers in pots on your back patio or even plant an extensive rose garden, it's all possible.
The key, however, is to truly understand the art of desert gardening. Here are a few basics to get you started: 
Set a few goals. To start, ask yourself questions, like "Do you want to xeriscape your front lawn?" or "Do you want to try your green thumb with a few flowering plants and shrubs?" Typically, pros say it's best to start on a smaller scale. While you're in the decision-making phase, start looking at local gardens for ideas and inspiration.
Get to know the desert growing seasons. Professional landscapers say that Arizona has two basic growing seasons: fall and spring. In most cases, October and March are the biggest planting months. However, you can plant something almost any day of the year in the desert. That is, if you know what you're doing.
Understand the soil type. The desert environment boasts alkaline soil that's clay-based. While it's great for growing desert plants, vegetables and flowers can require more nutrients — specifically, more organic matter. To deal with this challenge, try blending native soil with compost in equal measures.
Understand concept of irrigation. Many newcomers to the Arizona environment tend to over-water. So what's best? Ideally, not all plants should be on the same irrigation valve and watering schedule. Why? Because different plants have different watering needs. At a minimum, an efficient irrigation system should separate your irrigation system with unique valves for trees and herbaceous plantings, as well as additional valves for succulents or palms. However, if you only have one valve for everything, then consider accommodating the needs of your most needy plantings with an irrigation system, and eliminate the irrigation lines to the less needy plantings.
The bottom line: experimenting is a major part of the fun when it comes to spring landscaping in Arizona.
However, if you get stumped, keep Corona Landscape's information close at hand. A family-owned and operated full-service landscaper, we provide landscape maintenance in Mesa, Tempe, Chandler, Gilbert, Ahwatukee and Ocotillo. We can provide weekly or bi-weekly service, or a custom schedule to fit your specific maintenance needs.