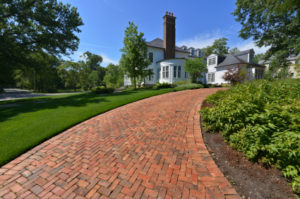 Here in Arizona our winter is more like everyone else's fall. Temperatures don't normally drop below 50 during the day, the sun shines 90% of the time, there's rarely snow or rain (at least in Phoenix) and people here live for these beautiful months. One of the greatest things about our mild "falls" is that fall landscaping is much easier to maintain than in other parts of the world. Yet while compared to most people we have it pretty easy, there are still some important things every landscaper or home owner should know about landscaping in the fall.
3 secrets to fall landscaping
Cover – Even though temperatures don't normally reach freezing or below, most years there are a few freezing nights. Because most of our plants aren't used to such cold weather it is very important to protect them from frost damage. Keep an eye on the weather and check the news for freeze warnings in your area. Equip yourself with as many coverings as you have plants. You can do this easily by purchasing cheap bed sheets and blankets, however, it is best to use material such as burlap, fleece, Polypropylene or similar materials designed to be plant covers. You can find many different sizes and types of covers online or at home improvement stores. If you have certain types of cacti such as Cholla, Leding's Hedgehog Cactus or Totem Cactus you can cover the tips with Styrofoam or plastic cups. Many of your larger, well-rooted plants are not at risk of dying, however, in order to be safe you should cover smaller, younger plants to avoid damage or death. You can reuse your plant covers year after year. Keep them on hand and at the first sight of those freezing nights, bundle those babies up.
Water – Most people are under the impression that watering your plants during this very cold weather will just put them at greater risk for damage. Frost damage actually happens because the frost pulls water from the plant, so if you do not water your plants properly during extreme weather conditions your plants could dehydrate, either causing severe damage or loss of the plant. The best way to water your plants during this time is to water them thoroughly before a freeze because the water will help produce more heat for the plant and will inhibit dehydration.
Maintenance – Maintenance can mean a variety of different things: trimming trees and plants, mowing the lawn, cleaning up loose leaves, picking weeds, etc. These activities not only keep your landscape looking beautiful but also make for better health and growth. Maintenance also included over-seeding. For those of your who have beautiful green lawns, it is very important to over-seed in the colder months. Perennial ryegrass will keep your lawn lush, green and healthy through these colder months giving you a beautiful, healthy lawn all year round. We recommend you do this when evening temperatures stay below 65 degrees Fahrenheit.
Doing these three things can make a huge difference in your fall landscaping. It will keep your landscape alive, healthy and beautiful. Here at Corona Landscape our highly talented and trained landscape professionals can help you with these tasks. We have many years of experience in the valley and we are dedicated to our customers. Contacts us today so we can dedicate ourselves to your fall landscaping needs.