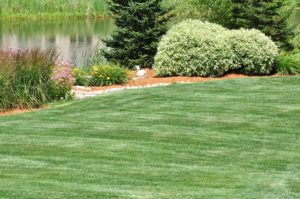 Like many parts of the country, major areas of Arizona are experiencing drought conditions. This presents challenges when it comes to water (or the lack thereof) available for lawns and other landscaping purposes.
Corona Landscape understands your struggle to keep your property looking attractive while conserving water and other vital natural resources. We know our residential landscaping customers are conscientious citizens—yet they also take pride in their property and want it to be beautiful and well-maintained.
Fortunately, it is possible to practice responsible water usage and still keep your lawn and greenery looking healthy and attractive.
Our expertise in Mesa are landscaping allows us to suggest the perfect lawn and garden options for your property and our local climate. We can create a beautiful outdoor environment consisting of plants and flowers that can thrive in this environment, using minimal water resources. We use turf, rocks, lighting, pavers and other accessories to give your yard a more exciting look without requiring additional water supplies.
In addition, we can also design and install an irrigation system that uses water as efficiently as possible, recycling whenever feasible and keeping waste to a minimum.
To discuss Mesa residential landscaping solutions that provide the look you want while conserving the precious water we all need, contact Corona Landscape.