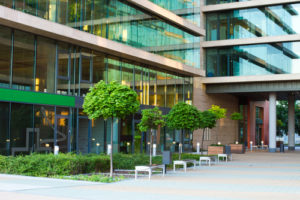 Good landscaping is as essential to your business's success as having the right products and providing great customer service. The exterior is the first thing people notice about your office or place or business, so it goes without saying that an unattractive exterior is likely to negatively impact your business.
If you have not put any effort into the exterior of your business, then now is the time to start. For the basics, you do not have to do anything elaborate: cleaning up debris, mowing the grass and trimming the shrubs and trees will help your business look attractive. In order to create an attractive and compelling exterior that attracts customers, though, it is wise to consult with a commercial landscaper in Ahwatukee. They have years of experience improving the appearance of properties and will be happy to discuss your situation with you. Hiring a commercial landscaper need not be expensive though. There are many ways to have an attractive exterior without spending a lot of money. Here are a few simple and low maintenance business landscaping ideas that you can use to keep your commercial property looking its best.
Keep the design simple. When designing the landscape, concentrate on simple lines and minimal plants in order to create a landscape that is both beautiful and easy to maintain. Elaborate gardens with mazes, evergreens, furniture and accessories are hardly necessary.
Use native plants. As much as possible, try to use plants that grow naturally in the desert environment as they will be easy to plant and maintain. Also, be sure to plant different types of seasonal plants so that the exterior of your business looks attractive all year long.
Proper use of paving. Reduce the size of your lawn by paving or tiling a larger part of your property, especially areas that experience heavy traffic. Concrete, tiles and decorative stone provide a hard wearing surface that is extremely durable and easy to maintain.
Plant winter-friendly flowering plants. There is a wide variety of attractive flowering plants that thrive during the Arizona winters. These plants are great for commercial landscapes as they do not require a lot of care and still produce attractive flowers.
Minimal plants: Instead of crowding your yard with many high maintenance plants, go for a few high performing varieties that will provide a point of focus in your landscape and require little care in the process. 
Landscaping your commercial property can be easy and cost effective if you follow a few simple strategies. A reputable commercial landscaper in Ahwatukee will help you decide on the best landscaping strategies for you, and ensure that you have a garden that is both beautiful and easy to maintain.
We'd be happy to maintain the landscape at your home or business. Click here for a free quote!