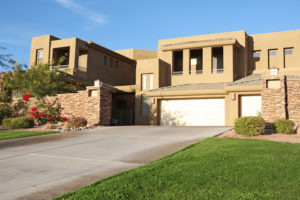 As most local residents know, there are specific challenges and considerations involved with maintaining beautiful and vital trees and other greenery in this area. Choosing the right type of plants is of course key, but after that point the outcome will depend in large part of the diligence of care that goes into the landscaping.
In this region, a properly maintained and regulated irrigation system is pivotal to ensuring healthy plant life that can enjoy a maximum lifespan. Watering schedules also need to be adjusted for seasonal conditions, particularly during the summer. This keeps the plants and shrubs thriving all year round.
Different types of plants need specific types of care, so a knowledgeable and experienced landscaper will have the expertise to know exactly how to tailor the watering and maintenance strategy to accommodate the particular species of plants on the property. This is something the average property owner likely would not know, so they generally rely upon their landscaping company to handle this area for them.
This responsibility requires a professional who will pay careful attention to the state of each plant, and be alert to any changes or areas of concern that might occur, so they can then take swift action to minimize any potential damage to the tree or plant.
If you want a Chandler landscaper who will care for your property with the highest attention to detail, contact Corona Landscape.