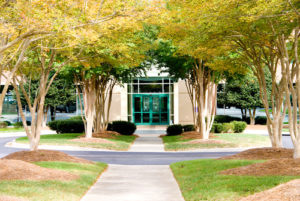 Your business is unique, and so should be the property that represents it.
At Corona Landscape, we have talented designers who can create a landscaping arrangement plan that is customized with your particular business in mind. We aim to help ensure your company presents the best possible image by making a great impression to visitors who arrive at your facilities. At the same time, we design this landscape plan to align with your company's image and personality. That means you present a consistent, familiar appearance that customers and local residents can recognize and appreciate.
Of course, designing your landscaping arrangement is just the first step. That's the initial phase of an ongoing process in which we provide continuous care and attention to these plants and trees, so they can continue to thrive and look beautiful.
Chances are, you don't have someone on staff who specializes in landscaping design and maintenance. Fortunately, this is our area of expertise. We have been providing the most reliable and trusted commercial landscaping services to businesses throughout the region for many years. We are proud of the great reputation we have worked so hard to earn, and we don't take the responsibility entrusted to us by our clients lightly. We understand your property and business reputation are both very important to you, and we strive to always exceed your expectations.
Corona Landscape is your best solution for commercial landscaping in Tempe.