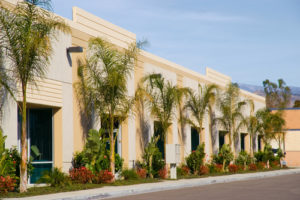 It is easy for commercial property owners to underestimate how important landscaping elements are for building their businesses. First impressions count in business and a well-landscaped business builds confidence in the customer, whether first-time or returning.
Yet it does not have to be an expensive proposition to provide your office building with curb appeal that will entice customers to come in. Careful planning can result in an attractively-landscaped business at a reasonable cost. Here in Chandler it can be something of a challenge to create attractive landscaping that can tolerate the summer heat, so here are five tips to design an attractive commercial landscape on a modest budget.
Start with a plan
Planning your landscaping is an important first step. Planning commercial landscaping in Chandler requires carefully thinking out how you will use landscape design to emphasize your business. By doing so you will be able to select the best design elements as well as keep an eye on your budget.
Contact your landscaping company and ask them to propose a plan for your business landscape. Many of them will be happy to work with you to create a landscape that gives your business strong curb appeal and makes it inviting and welcoming. Discuss your budget concerns as well as what you want. Also ask about long-term sustainability for your landscaping; you want to make sure that what you do will last for more than one year.
Make the entrance obvious and welcoming
Making the building entrance obvious and inviting is one of the primary objectives of any well-planned commercial landscaping in Chandler. This can be accomplished by adding low, bright colors, including flowers and bright grasses. What you want is something that will draw the viewer's eyes.
Grab the visitor's attention
Use your landscape design to include a focal point, such as a sign or logo, to draw attention to your location and strengthen these focal points by providing color and visual interest. This can be achieved with annuals planted in the spring for a blast of color that strengthens curb appeal and interest in the company.
Think about the person who is driving in their car and looking for your location. They will scan the area surrounding your business for one to two seconds. Make sure they can easily find your business by structuring your landscaping to direct their eyes to your sign.
Create a safe environment
During the winter people are coming and going to work in the darker morning and evening hours. Safety is a prime concern at these times. Have low-voltage lighting or soft and subtle lighting to enhance the entryway and point to the entryway. This applies to both customers' and employees' entrances.
In addition, ensure that your parking lots are safe as well. Refrain from planting hedges, large bushes and low trees that block visibility. Instead, plant attractive grasses and flowers to brighten up the lot without adding eye-blockers.
Plan for low maintenance
Consider how much time you want to invest in the seasonal maintenance of your landscaping. While discussing the plan with your landscaping company, ask them to prepare a maintenance plan that includes notes that detail the care of the landscape throughout each season.
Keep in mind that there is no such thing as a zero-maintenance plan; regular trimming, edging, pruning and fertilizing is important, but low overall maintenance is achievable if you plan. This will promote the care and ultimately the year-round tidiness of your landscape.
At Corona Landscape we dedicate ourselves to making your business look good. We will help you plan your landscaping, install it and then set up a schedule of regular maintenance for your business so that your business will always give a great impression. Contact Corona Landscape today at 602-373-9100 or send us an email.