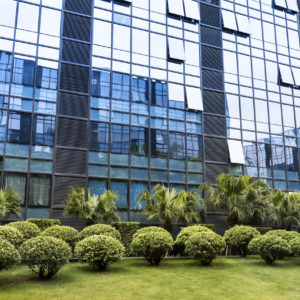 Trees and plants may have nothing to do with your actual business operations and may not relate to your industry, but they can still have an impact on your professional success.
The grounds surrounding your property are often the first glimpse that people get of your business. As you know, any type of first impression is a lasting and memorable one, so you want this view to send a positive message right from the start.
Just like homes, business properties can also have curb appeal. In this situation, though, you aren't trying to impress potential buyers. Rather, you are trying to convey a professional image to customers, visitors and important business contacts. They will see that you care about appearances and take pride in your business.
If your landscaping is neglected or inadequate, it sends a message (if only subconsciously) to visitors that you don't care enough to pay attention to your property. This in turn makes them wonder if you will devote the same inadequate level of care and attention to other aspects of their business. This could possibly also make people wonder if cash flow is so poor that you cannot afford to properly maintain your land.
Obviously, these are all things you want to avoid. Fortunately, it is relatively easy to ensure your property makes the right first impression. You may not have the resources or experienced personnel to maintain full-time landscaping staff, but that won't be obvious to visitors when you let Corona Landscape handle your commercial landscaping needs.
We offer a variety of services for businesses in Mesa, Tempe and the surrounding areas. This can include weekly lawn care maintenance, irrigation adjustment, seasonal cleanup, lawn seeding and any other type of landscaping services you may need. We can inspect your property and recommend a landscaping plan and schedule tailored specifically for your individual needs, budget and property characteristics. Of course, we can also quickly handle any emergency situations or unplanned needs as they may arise. Our services are also designed with water and energy conservation in mind, so as to help protect the environment and our precious natural resources.