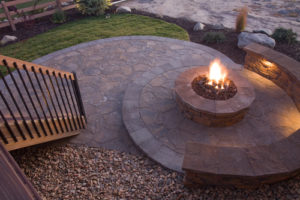 Thanks to the dry, Arizona environment, landscaping your backyard can often be challenging. And while a well-rounded combination of native desert plants and features can blend into your surrounding landscape best, it does not mean you are limited to only common cacti and simple rocks.
In fact, desert residential landscaping in Arizona can be your opportunity to showcase a variety of eye-catching features, from colorful, native shrubs and plants to glorious water fountains and ponds that can attract small desert animals and various birds.
Walkways, Patios and Lighting
When deciding on material to use for your walkway and/or patio, you might consider utilizing beautiful, native stone selections, from reddish-brown Saltillo tiles to natural sandstone, shale or capstone sections. These varieties all blend well with the local Southwestern environment, offering a striking contrast whether used for a patio, a pathway or a grilling area in the backyard.
Also low on maintenance, tiles created from these native materials can stand up to the harsh, hot environment, naturally absorb water and blend into your backyard's surroundings, both in structure and color.
In addition, because the Arizona desert can be quite dark at nighttime, plan on incorporating some lighting ideas to help make backyard entertaining easier and more comfortable. Add strings of lights wrapped around posts, or place them in and around trees to bring your backyard alive at night. Torch lighting can offer striking and strategically placed areas of light. Finally, walkway lighting can offer safety and allure to further enhance your backyard.
Water Features
Thinking about adding a water feature in your desert backyard? With this approach, you can create your own personal oasis in the midst of cactus and rock.
Rock-walled waterfalls, swimming pools and fountains can provide eye-appeal, soothing sounds and a sense of refreshing coolness to a hot, dry desert backyard.
Ponds or pools surrounded by desert rock – like sandstone or shale – can offer visual depth and interest. Consider placing them off the back patio or perhaps tucked into the far corner of your backyard.
Desert Shrubs
Arizona's natural desert plants can offer equal hardiness, low water requirements and vibrant color. Native shrubs, such as Agave, Creosote or Desert Broom, provide low maintenance and low watering needs, even in the highest heat of summer.
At Corona Landscape, we take pride in showing up on time, getting the job done right and giving our customers valued services at prices they can afford.